Attracting & Retaining Successful Tertiary Students
JIIG-CAL Australia has been producing and continuously improving friendly, effective, high quality career planning software resources for over twenty five years. The next generation of high value career guidance apps has been launched at the beginning of 2019. The Career ePortal has all your critical career planning apps in one for easy access by career advisers, students and other career seekers.
Career advisers and practitioners are able to manage their client records, identify those having difficulties, customise the software, generate adviser reports amongst other helpful adviser level functions.
With secure login students and other career seekers have reliable and well researched career apps at their fingertips. They are able to create career profiles, generate career plans, explore suitable jobs, develop career action plans, clarify work values, build resumes, create and save reports, and more.
Click here for more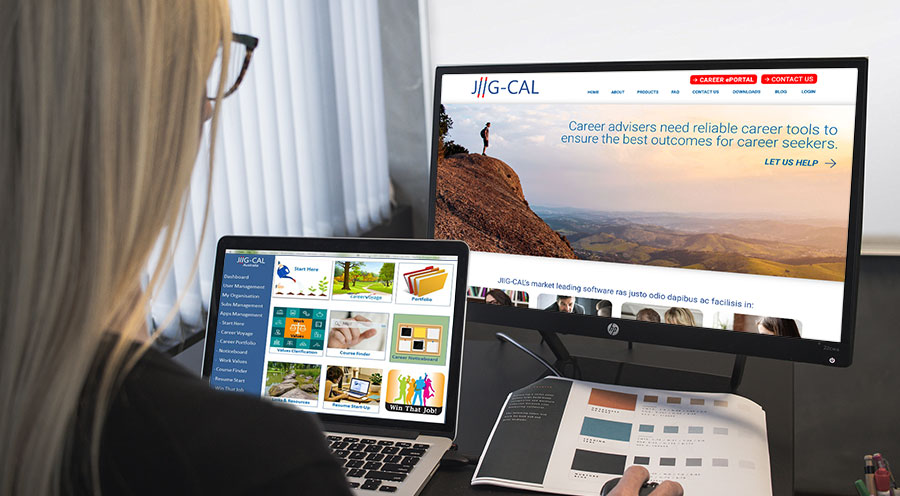 Ideally suited to Australian and NZ environments, this career guidance and career information software is used extensively throughout Australia and New Zealand at all levels of education, as well as by job networks, rehabilitation counsellors, private career consultants and individual career seekers.
Underlying job search, guidance, and career exploration algorithms were originally developed over many years in collaboration with Edinburgh University's Careers Research Centre. Inherent in the algorithms is career planning suitability for all ability levels, ease of use, and good outcomes for career advisers, adult career seekers, students and parents.  Over $20 million worth of research and development has been devoted to ensure high reliability and validity of relevant job factors, psychometrics, psychological underpinnings and system outcomes.
The software input requirements relating to critical personal factors, and essential job-related factors are based on years of solid research. Underlying psychometric  algorithms, and system outputs are likewise well researched, high reliability and tailored for Australia and NZ. They are reviewed here in Australia at least annually. This includes all relevant career information. The Occupational database has around 700 occupations.
JIIG-CAL Australia is Australian owned and managed, focused on providing high quality career guidance solutions for Australian career seekers and Advisers.