Effective Content Marketing to Prospective Students
Click here for more information
With tertiary admissions looming future students are about to make critical decisions. "Where to study", "which institution", "which course", "online or F2F"? These are some of the difficult decisions faced by young people. With so many options how can individuals be guided to make wise and suitable choices? Websites have become both the primary source of information and windows into tertiary organisations.

Typically each tertiary institution website contains very large amounts of data. For young people without clear goals and self-knowledge, this can be confusing. And more information can be more confusing. Obvious a good structure is a key aspect of a good tertiary website. How easy can a visitor find suitable information has become a top KPI. Good composition of the website helps with high density content. It goes in hand with segmentation of visitors and quick navigation to appropriate directions deeper in the website.
Inbound marketing remains the main purpose of these websites. Web teams work hard on SEO to make sure their websites are on top of the searched list. However what happens once they get a prospective student visitor? What strategies are in place to nurture the visitor?
Conceptually the next step is to help prospective students to find suitable courses and campuses. Tertiary institution websites typically provide course selectors and search facilities. That works well when prospective students realistically know what they want. But what if they don't?
There are tertiary providers that offer career advice to website visitors. Some of them have created career centres or career hub pages. This seems an appropriate way for further engagement with prospective students. There is considerable international research relating to high quality career guidance contributing to positive tertiary education outcomes.
So, decreasing the student drop-out rate is one benefit of career counseling service. Another one is an inquiry into the service. In marketing jargon: "A prospect has become a lead."
Some schools are able to manage their leads one by one via career counselling. For bigger institutions it can be costly due to volume of leads.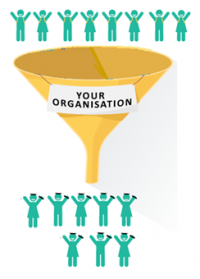 Website embedded career guidance software can solve this issue. With a high quality career planning resource tertiary providers can:
add value to their websites
attract more prospective students to the websites
link prospective students' choice of career pathways with course offerings
collect and collate critical data about prospective students
improve the motivation and success of the students while reduce attrition rate
Building on extensive international research lead by the Careers Research Centre of Edinburgh University (UK), JIIG-CAL Australia has over twenty years of delivering high quality career planning software.
Career Voyage is a Web based mobile friendly career guidance solution that measures:
occupational interests (which when harnessed translate into enthusiasm and success for courses)
health/disability factors, and
other critical elements for effective course and career planning.
More than 600 Australian organisations and over 250,000 Australian career seekers have used Career Voyage to develop realistic, suitable, and productive career plans.
Career Voyage software can be accessed directly or embedded in tertiary providers' websites, and even branded with full white labeling.